Phenomenon and popularity of Zakopane sometimes surprise even local people. There are more and more tourists visiting Zakopane every year. Where do this highest located town in Poland come from? Why it's so specific? We invite you for a short review of the most important information about Zakopane!
Location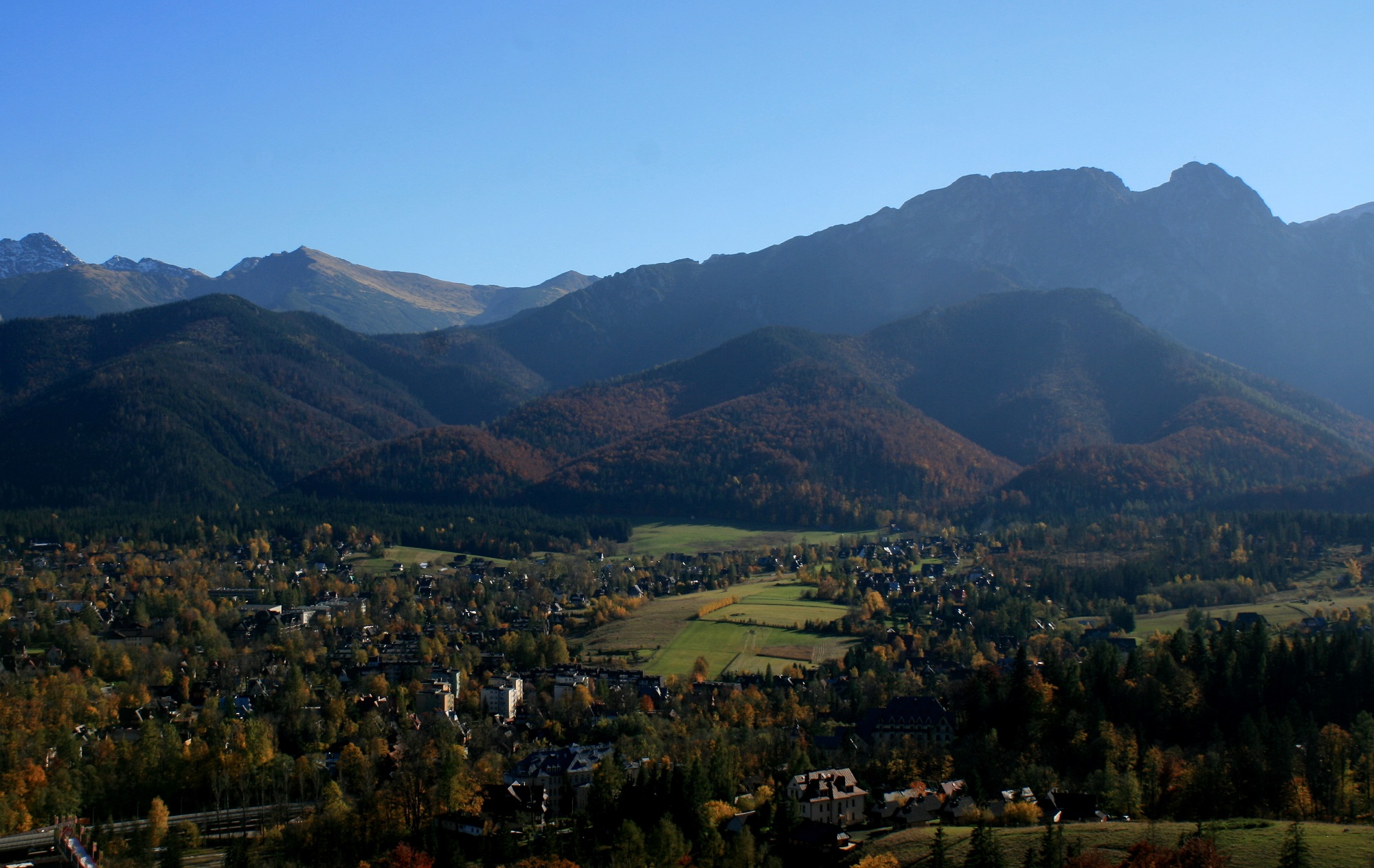 The town is located in a valley between the Tatra Mountains and Gubałówka Hill. It is located on  750-1126 m.a.s.l., which makes it the highest situated town in Poland. It's highest point, administratively located in  Zakopane's borders is Świnica Peak (2301 m.a.s.l.).
From south,  Zakopane is surrounded by Tatra Mountains, and from north, by Gubałówka Hill. Zakopane's area is about 85 km2. A few streams running through the town are interconnected in Zakopianka River, which falls to Biały Dunajec River.
A big problem of Zakopane is its location, the route from Cracow to Zakopane on weekends and during events such as World Cap Ski Jumping can be jammed with cars. A new highway is being build and in 2020 from Cracow to Zakoane it will be under an hour's drive.
Short historical overview
First settlers have shown beneath Tatra Mountains in XVth century. Their ancestors come from walking through Carpathian Mountains  Vlachs shepherds. Thanks to king Michael I decision, they could legally settle on the area of today's Zakopane town.
At first, big highlander families lived in separated farms and settlements, and just after some time, they have connected in one village.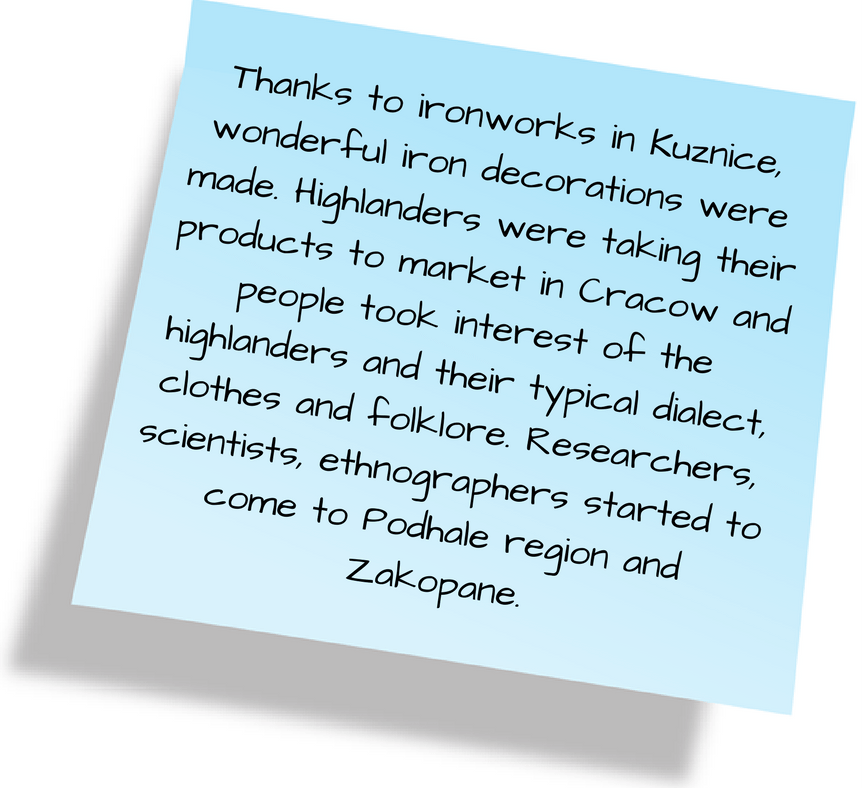 The village did develop very fast thanks to mining, which started in there. In XVIth century, people were looking for copper, silver and gold in Tatras, and first mines was created in Western Tatras, in Kościeliska and Chochołowska Valley area, and later around the lake Morskie Oko. In XVIII century, in place, where now is Kuźnice and the lower station of cable car to peak of Kasprowy Wierch, was created an ironworks. 
In XIXth century, on the oldest street in Zakopane, was built a small, wooden church, and it's neighborhood became a center of the village. The street was named Kościeliska Street (from polish kościół – church). The other old street in Zakopane, did connect village center with iron mine in Kuźnice, and this is today's the most popular street in Zakopane – the Krupówki Street.
Zakopane became more and more popular, mainly thanks to poets and artist, who came here very often and glorified the beauty of Tatras nature and highlanders folklore in their works. Moreover, the area, where Zakopane was located, called Galicia, had more freedom than any other area in occupied Poland (at this time, Poland was occupied by Russia, Prussia and Austria for more than 100 years). Tatra Mountains became a symbol of strength, freedom and Polish nationality. Visits here were extremely trendy and they were treated like patriotic duty.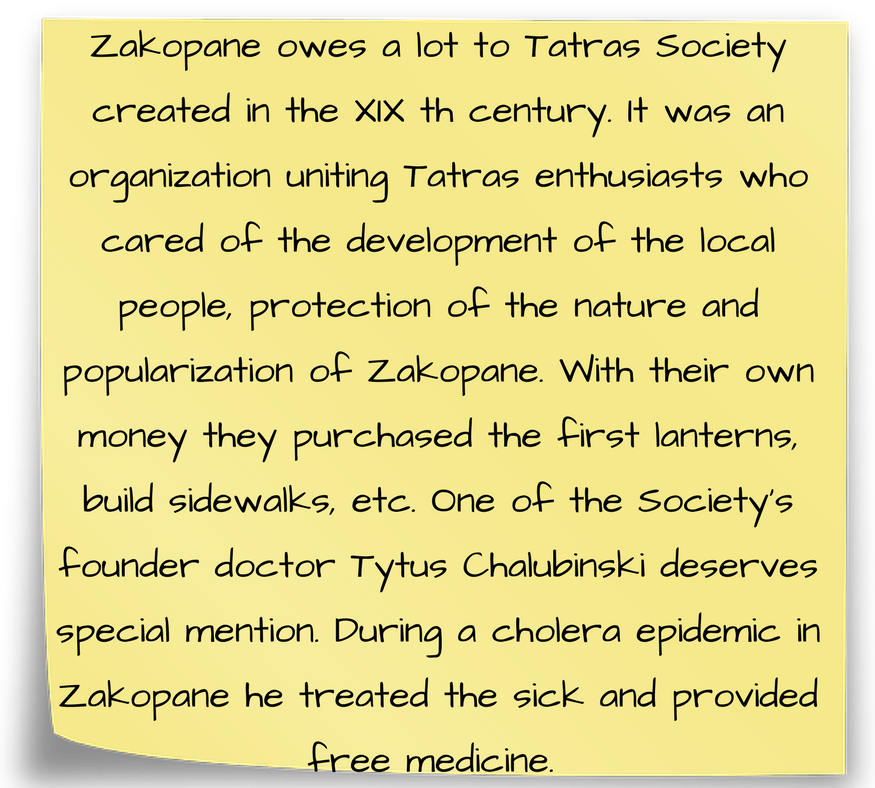 Highlanders existence improved thanks to farming, mining and they did cater for the increasing flow of tourists. They rented rooms, served meals, provided mountain guiding and other services. At the end of XIXth century, forge and ironworks in Kuźnice was closed, but at this time the railway line to Zakopane was built, which only increased the number of tourists. After that, Zakopane became a tourist resort.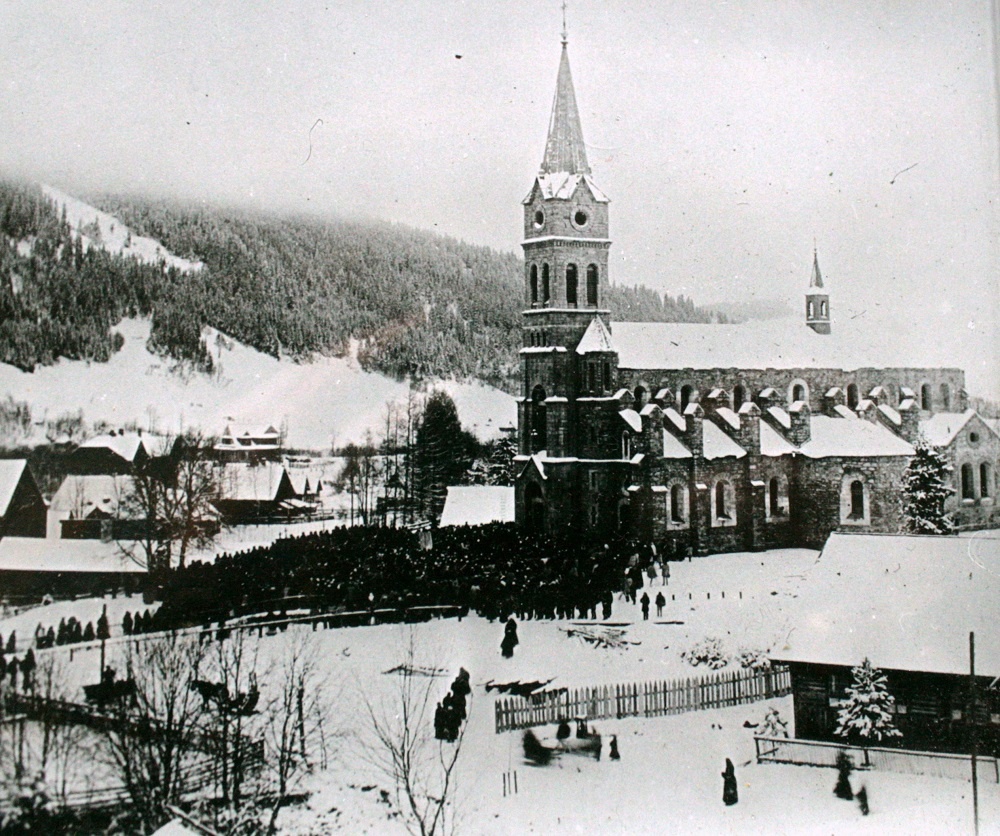 Krupówki Street in XXth century, Tatras Museum collection
To celebrate the beginning of the twentieth century, the rector of the church in Zakopane, Kazimierz Kaszelewski asked in 1900 the inhabitants of Zakopane to donate for a cross to be installed on the Giewont Mount. The locals raised enough money to order the cross to be built in Cracow. In August 1901 about 250 Zakoane's citizens took part in the transportation of the parts of the cross from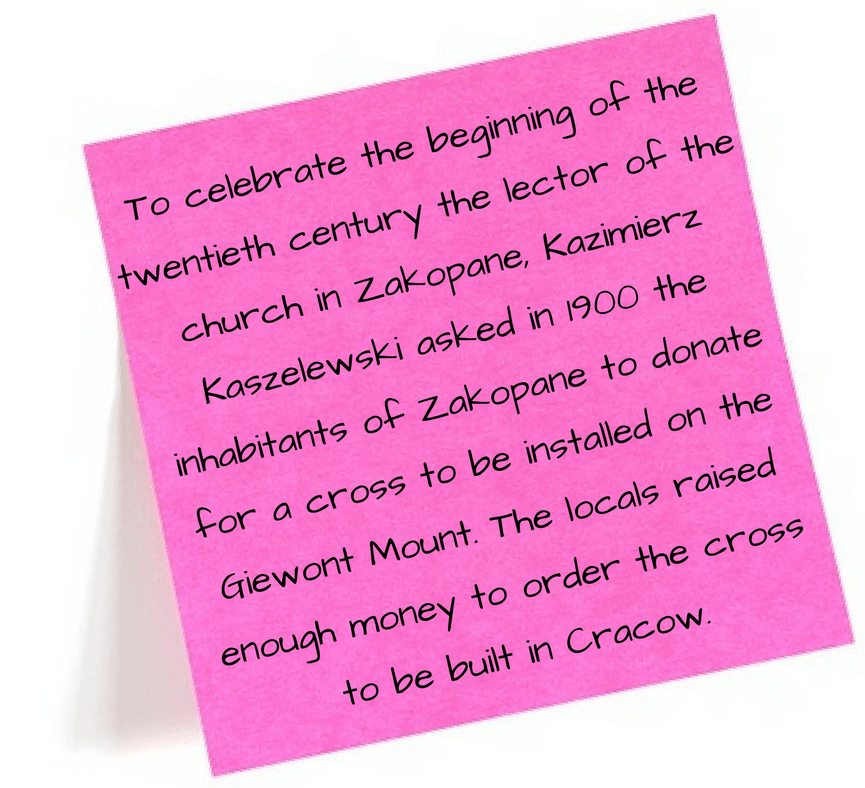 the train station to the top of the Giewont. The horse drawn carriages did take the parts as far as horses could go and then the locals carried the pieces to the top. The cross is more than 2 tons and its height is about 50 feet, they brought there as well about 800 lb of cement and enough water to have the cross imbedded in the rocks. The work lasted 6 days and on the 19th of August 1901 there was the dedication of the cross, that was made by Fr. canonical Bandurski, chancellor from Cracow, during Mass on Giewont, attended by about 300 people.  On the crossing of the cross arms there is an inscription: Jesus Christ, God the Lord, was restored by means of the message of salvation 1900.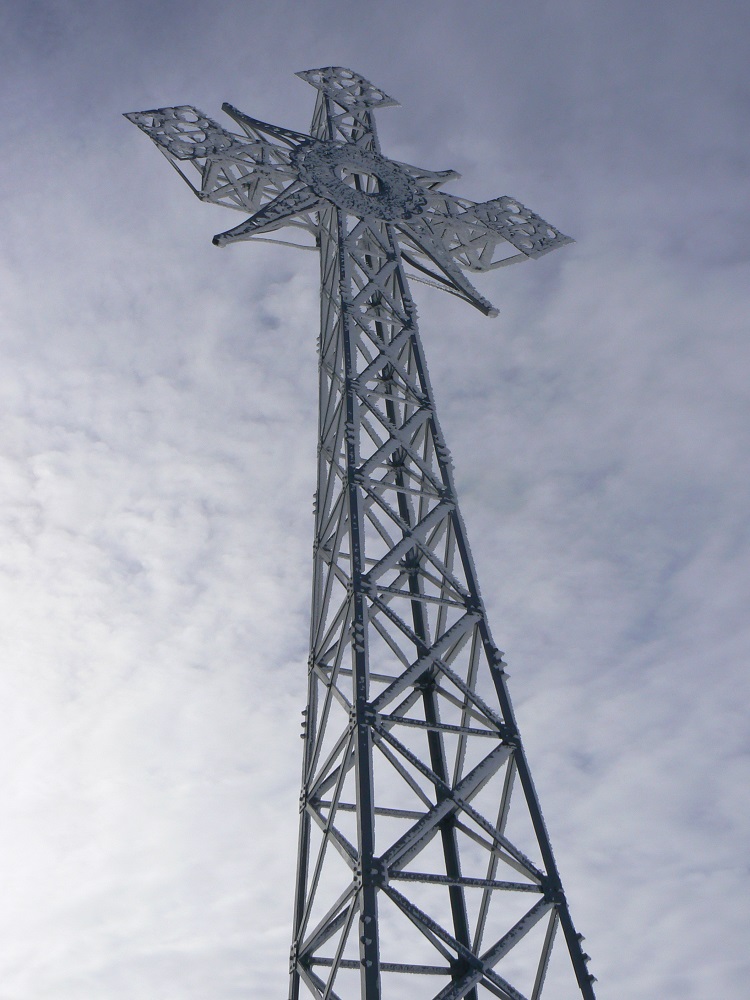 During the World War I, to Zakopane arrived many of intelligentsia's representatives, writers, poets and artists. At the end of 1918, Zakopane renounced obedience to Austria's emperor and become one of the first area in reborn and independent Poland.
After the WW I Zakopane was just bursting with tourists, and in 1933 it has received the town rights.
A the time of the German occupation during World War II, Zakopane was a place of strong resistance movement and as well the highlanders from Podhale where the couriers, who smuggled information through Tatras to Hungary and other countries.
At the end of XXth century, Zakopane a town of 30 thousand inhabitants become the winter capital of Poland. With countless hotels and guesthouses did welcome more than one million tourists a year.
Zakopane today
Nowadays, Zakopane is one of the most popular tourist destination in Poland and become more and more popular abroad. Thousands of tourists from all over the world come to Zakopane every year. Zakopane, thanks to its interesting history, unusual culture and wonderful nature, is a perfect place to rest and enjoy holidays for everybody.
There are lots of attractions in Zakopane, in winter time, as well as in the summer.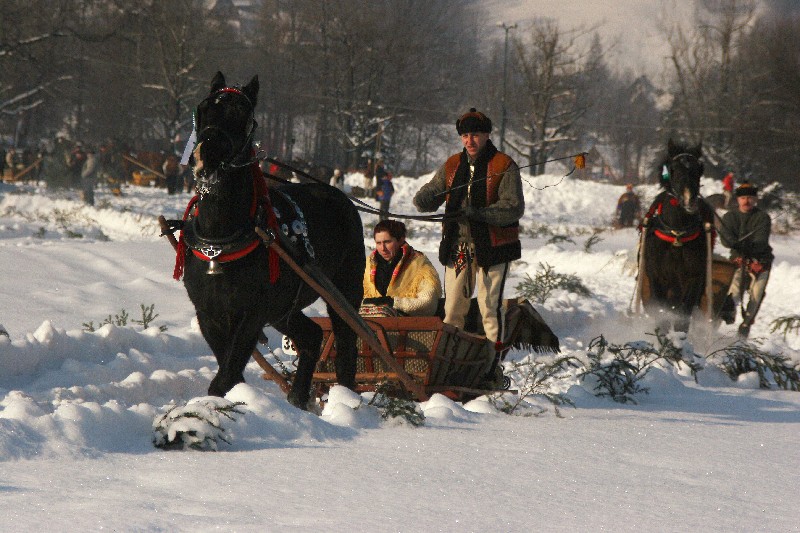 Tatra Mountains, where the town is situated, offer unforgettable views and experiences. There is nothing as beautiful as a walk through the mountain valley or a trip to higher parts of Tatras. A possibility to relax and interact with wild nature is invaluable. Despite of the fact, that in the  summer time there are a lot of people on the most popular trails in Tatras, if you go on a trip early in the morning, you will have chances for some peaceful moments, even in high season.
Beautiful monuments in Zakopane, old wooden architecture, galleries and museums will satisfy every culture and history enthusiast.
Unusual folklore and culture of native highlanders is unique and what's important, still alive. You can listen to the regional band in almost every local restaurant, see traditional sheep grazing on many meadows and original highlanders dresses on the streets. In addition to this, there is the unusual personality of highlanders and of course, their local cuisine. You can taste regional food in many restaurants and buy popular highlander cheese (oscypek, cheese made of sheep's milk) in mountain huts, where it's made by shepherds.
In winter time, countless facilities are waiting for the winter sports enthusiasts. In the town and surrounding areas, there are lifts and ski rental places, special trails for cross-country skiing and a few ice rinks. Tatras valleys, most of which you can reach without professional equipment, look wonderful in the winter. In addition to that there is the New Year's Eve celebration in Zakopane with spectacular fireworks, with the participation of the most popular music stars. In the winter, there is also FIS Ski Jumping World Cup in Zakopane, which every year attracts thousands of fans from all over the world.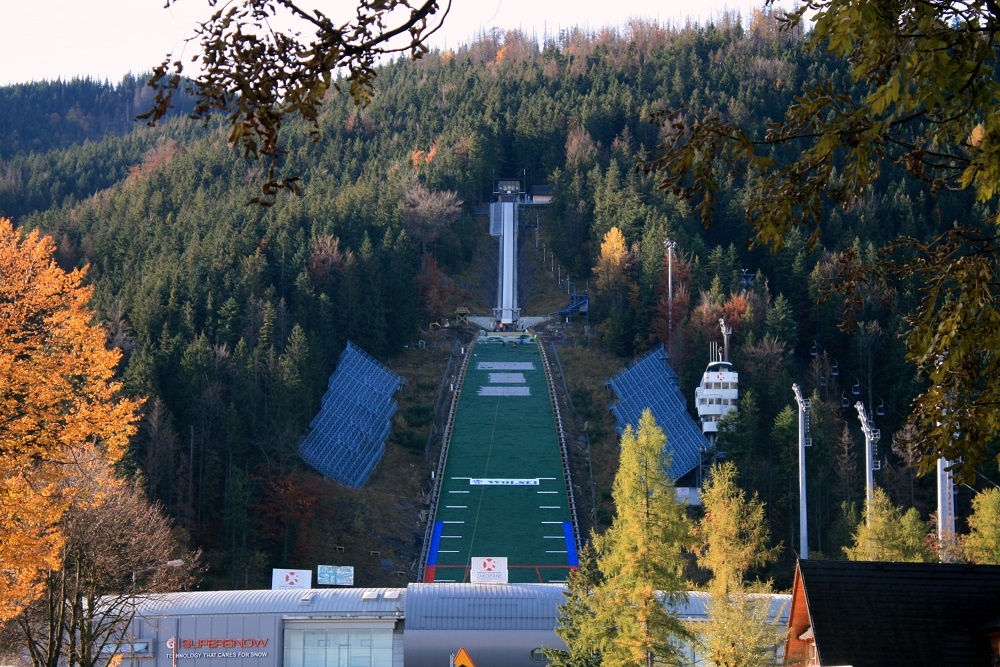 In the summer, the best activities are mountain trips, walks through valleys and bike rides. There are a lot of concerts, regional festivals and cultural events that occur every year. There are wonderful landscapes in summer's sunny days, but also, unexpected storms and weather changes. There are lots of happy tourists in summer, lots of laughs and fun.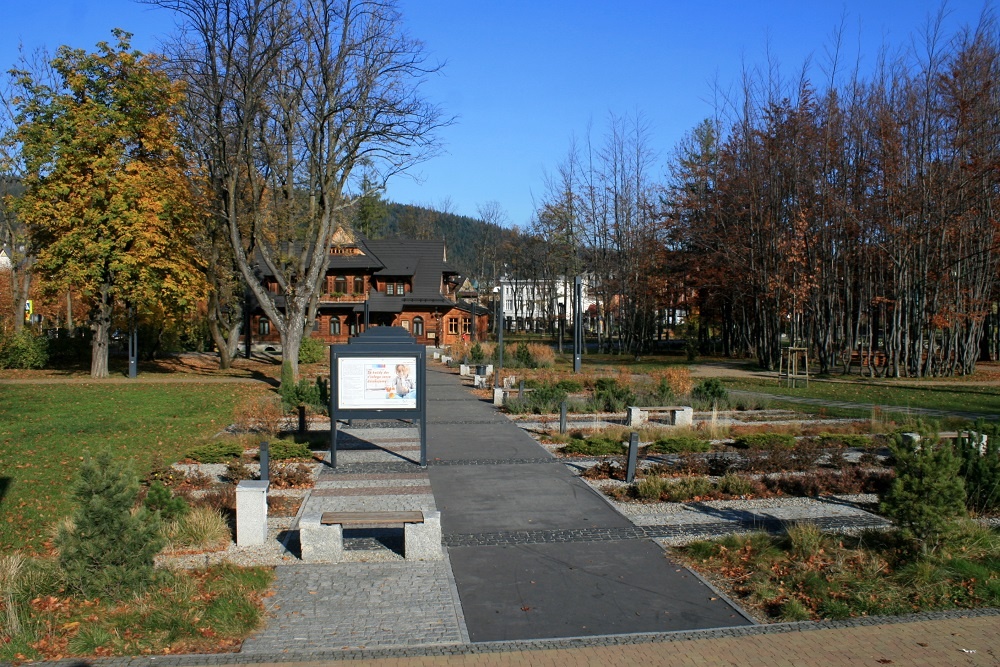 Spring and autumn is associated with calm and rest. The town falls asleep for several weeks, to get vibrant again in high season. In the spring and autumn, there are wonderful colours, empty mountain trails, silence and a possibility to truly interact with nature. It is also a perfect moment for sightseeing. In the spring and autumn time, there are lots of sport events and regional Tatras festivals.
Everyone, in every time of the year, will find something special in Zakopane!