Chocholowska Valley is one of the most popular tourists trail in Tatra Mountains. It's avaliable for everybody: small children, elderly people, cyclists and… dogs! Even our pupils can enjoy Tatras nature in that only valley, where they can come into.
Trail: Siwa Polanda-Chochołowska Valley-mountain shelter on Chochołowska Glade-return the same way
Time: 4-5 hours
Difficulty level: easy
For who? families with children, elderly people and everybody who wants to take a nice walk. You can bike through the valley and you can take a pram with you (the pram should have big, strong wheels, as there are stones and mud in some places.
Trail's colour: green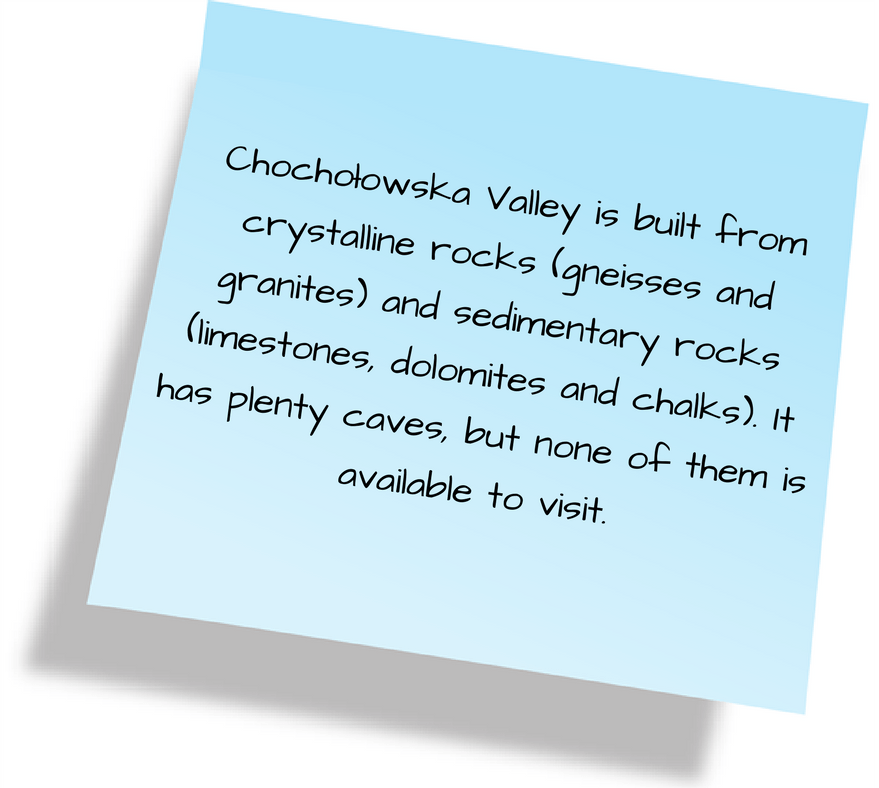 Chochołowska Valley is located in Western Tatras and it's the biggest and the longest valley in Polish Tatras – its area is more than 35 km2, and its lenght is 10 km. 
The valley's name comes from neighbour village Chochołów. Because of the large number of glades , Chochołowska Valley was previously the biggest center of shepherding in Tatras – even 70 shepherds pastured their sheeps here, and more than 230 cowherds pastured their cattle at the same time. There was a large amount of shepherd's huts in the valley as well. In XVIth century, there was an iron ore mining here, that was transported to ironworks in Kuźnice, Zakopane.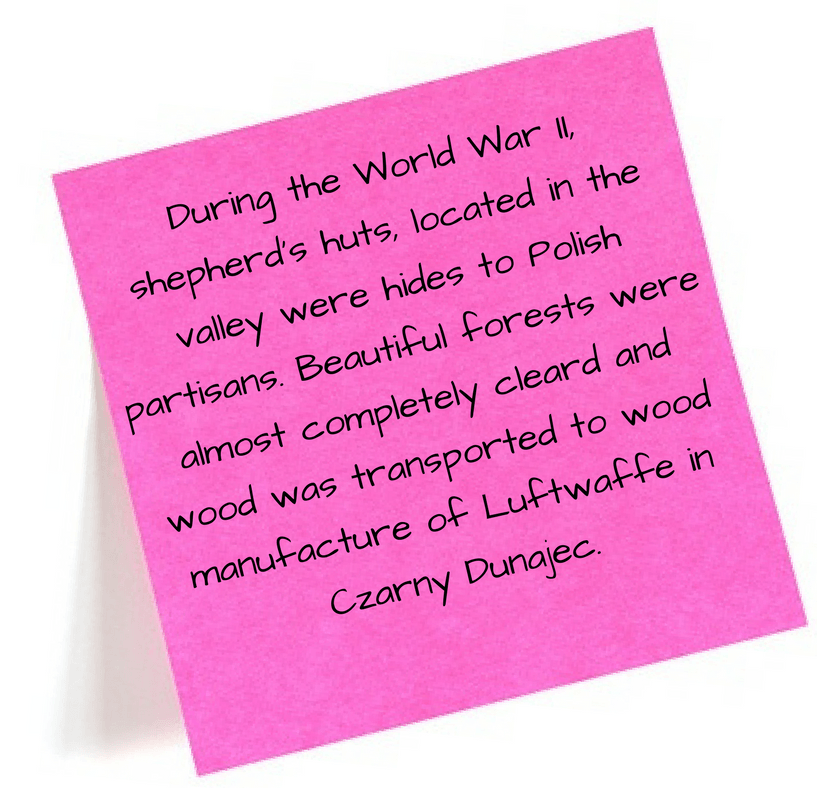 Getting to Chochołowska Valley
There are several ways to get to Chochołowska Valley: you can arrive by car and leave it on the car park just before the entrance to the valley. You can take a bus from Zakopane, they go really often from bus station – if you choose this option, you'll get out of the bus on the bus stop on the main road, and then on your left, there will be a way to valley.
Chochołowska Valley is the only valley in Tatras, where you can bike, so going throurgh the valley by bike is really good idea. Then you can already come to the valley by bike, right from Zakopane (it's about 11 km).
Lower part of Chochołowska Valley
After paying a symbolic charge for entrance to Tatras National Park, we can go. At the beginning of our trail, we go wide, asphalt way, passing several shepherd's huts and even some food kiosks. We follow the green trail and the way to mountain shelter in Chochołowska Glade will lasts about 2-2,5 hours.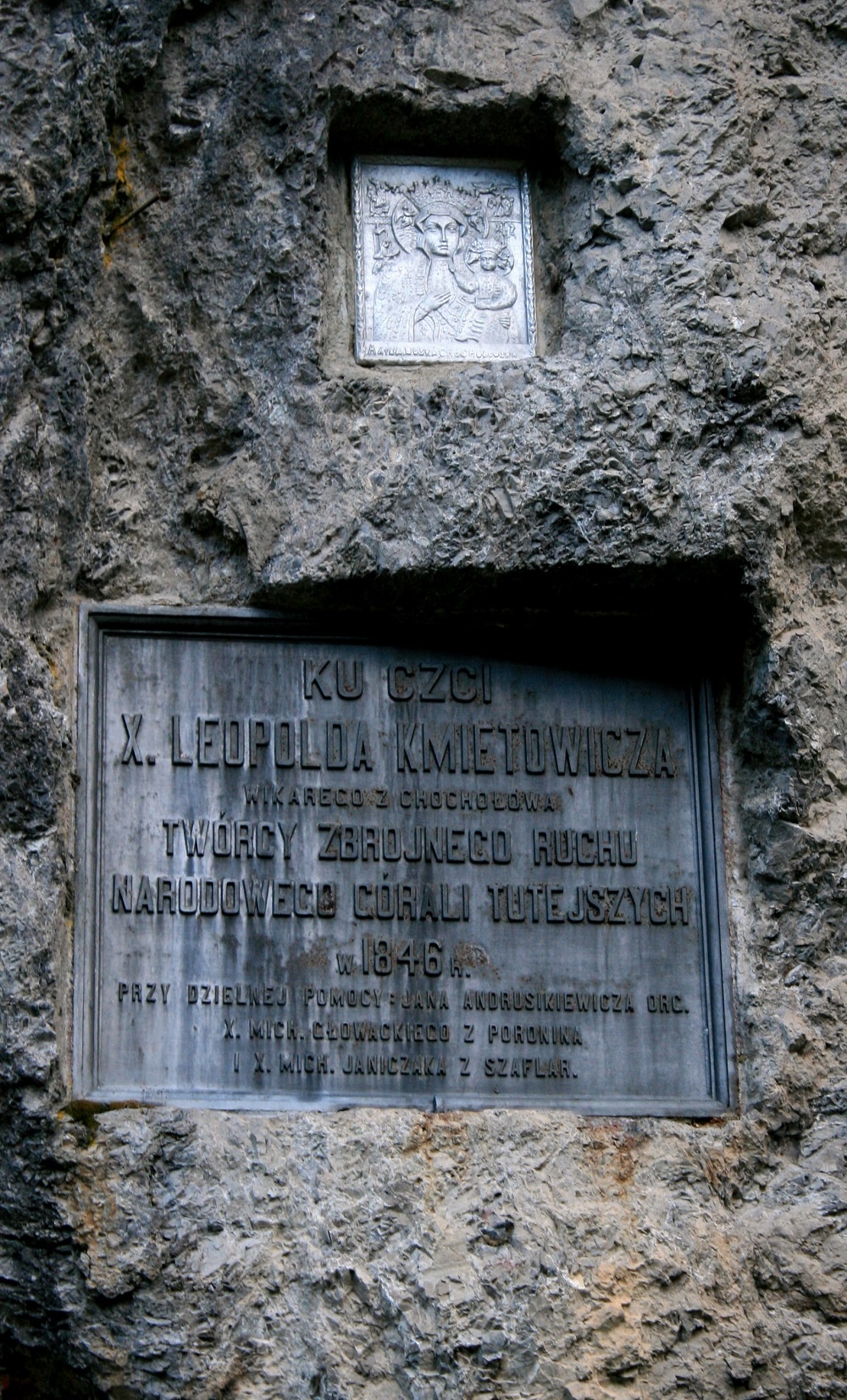 In its lower part, Chochołowska Valley has deep gorge with characteristic narrowings, called gates. We meet two of them on our way: Lower and Upper Chochołowska Gates. The first one is often called Kmietowicz's Stone, from the name of Józef Kmietowicz. There is a memorial stone on the gate, made for him and a small medalion, that reminds about visit of pope John Paul II in the valley.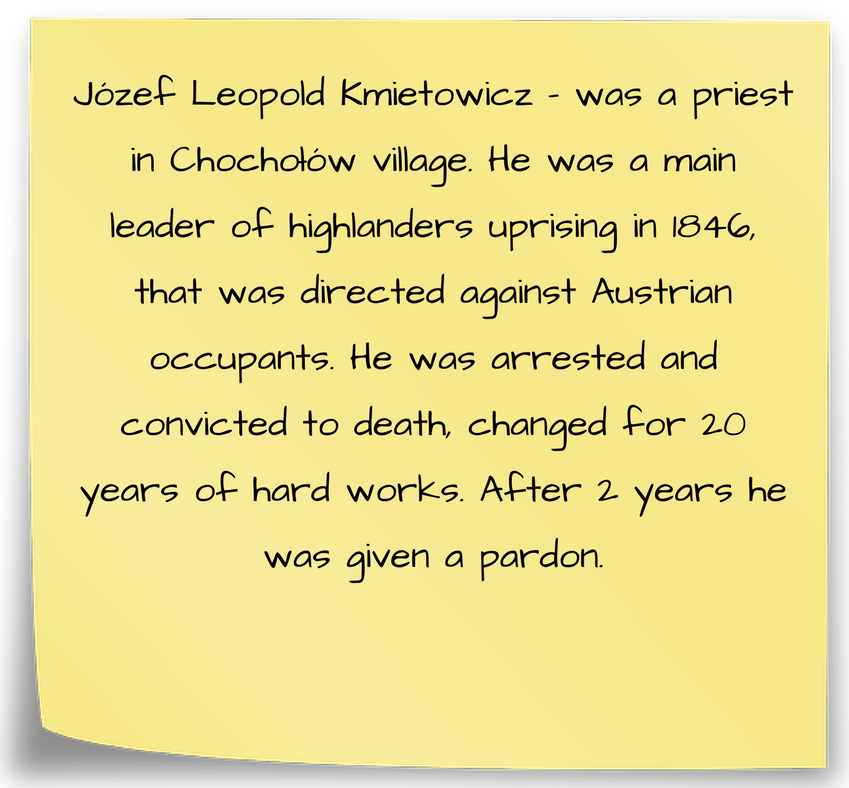 Upper part of Chochołowska Valley
The second, upper part of Chochołowska Valley divides to three main arms: Starorobociańska Valley, Jarząbcza Valley and Chochołowska Valley. The way is still wide and comfortable, but sometimes it's going a little bit up.
It's worth to turn left for a moment and go the short path along the stream to Chochołowskie Karst Spring. It's a place, where underground water reaches the Earth's surface, located in karst areas. Some water in Chochołowskie Karst Spring come from caves, and the spring is just a low pond (1,5 m deep).
In the upper part of the valley, we pass through the second narrowing – Upper Chochołowska Gate. In mountains, that form this gate are plenty of caves, among them the biggest in the valley Chochołowska Crevice.
The way, in some parts, is coverd with stones, so riding a bike or going with pram can be difficult in some moments. After a few minutes we go nice way again.
Chochołowska Glade and mountain shelter
On Chochołowska Glade the way is coverd with stones again and goes up. We pass shepherd's huts and information boards. On our right, just above the wooded hills, we can see a long crags' line called Chochołowskie Monks. In spring time, the glade is covered by wonderful saffrons, called crocuses here.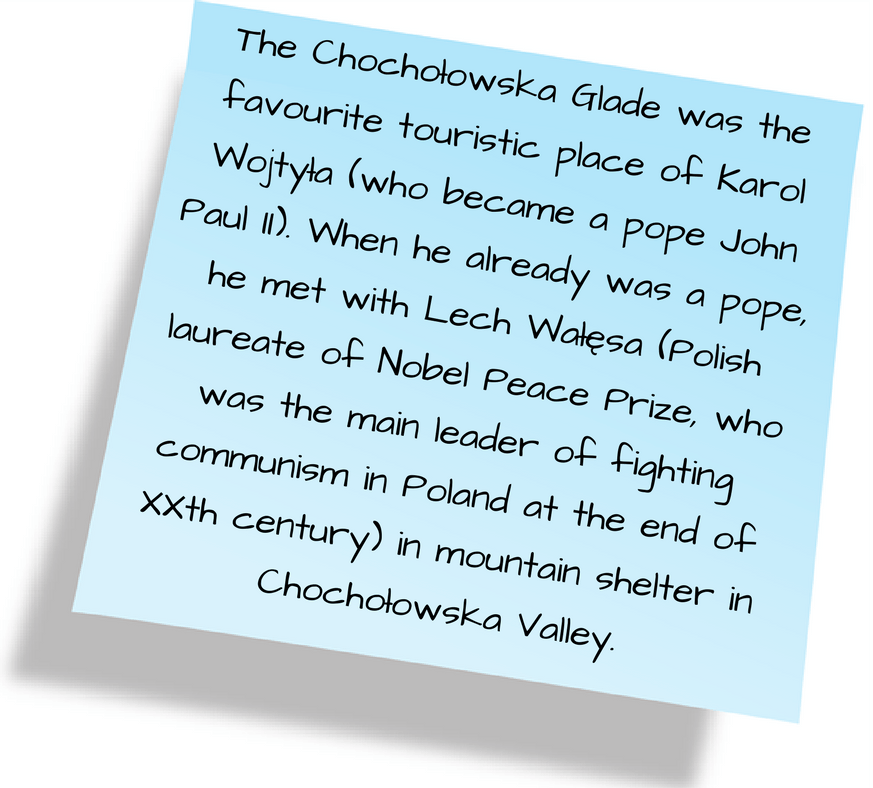 From the glade you can go the path just beneath the forest, where a wooden chapel is located. The chapel is built in highlanders' architecture style from unpainted planks, the roof is coverd by black shingle.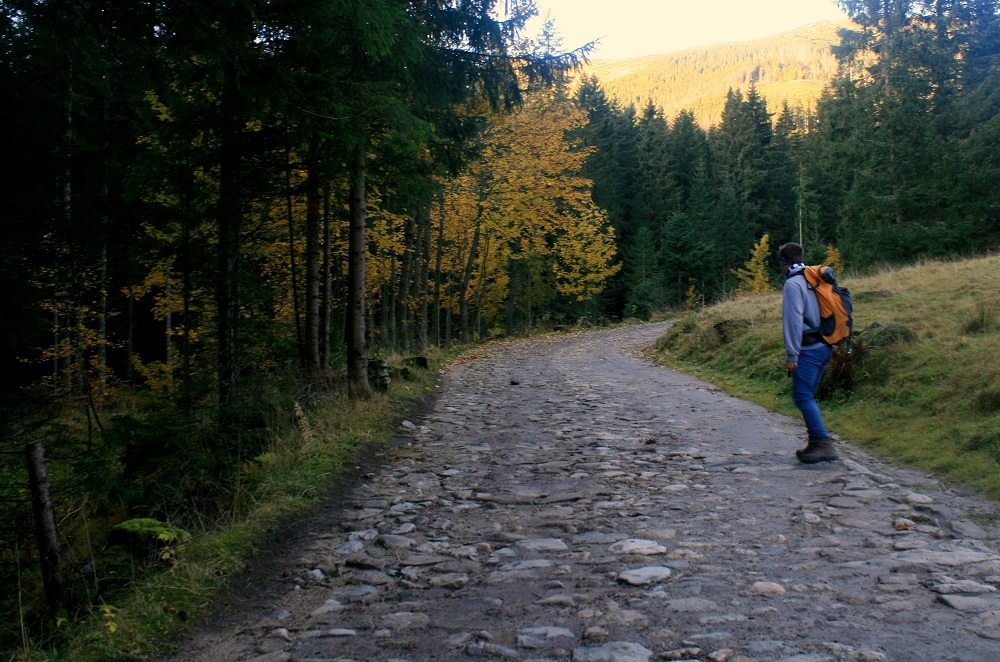 Going back to the main path and then a little bit up, we come to the mountain shelter on Chochołowska Glade, which is the biggest shelter in Polish Tatras. Next to it, there is a seasonal office of rescuers from Tatra Volunteer Search and Rescue (TOPR). On the Chochołowska Stream, next to the shelter, there is a small hydro plant, used for shelter's needs. It is worth to try really tasty apple pie in the shleter, that is very popular here.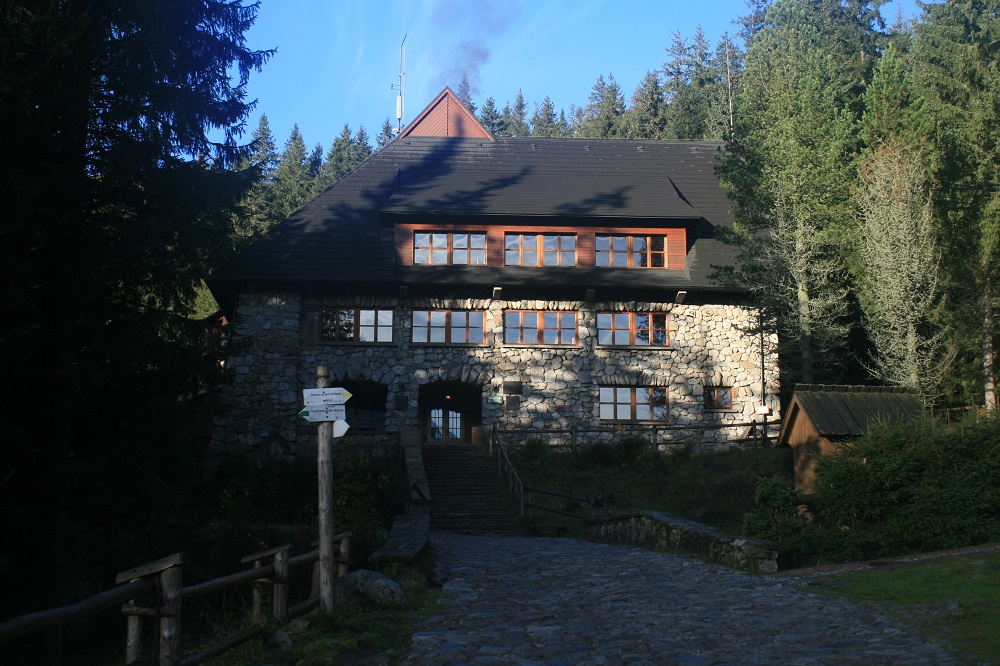 The way back is just the same route.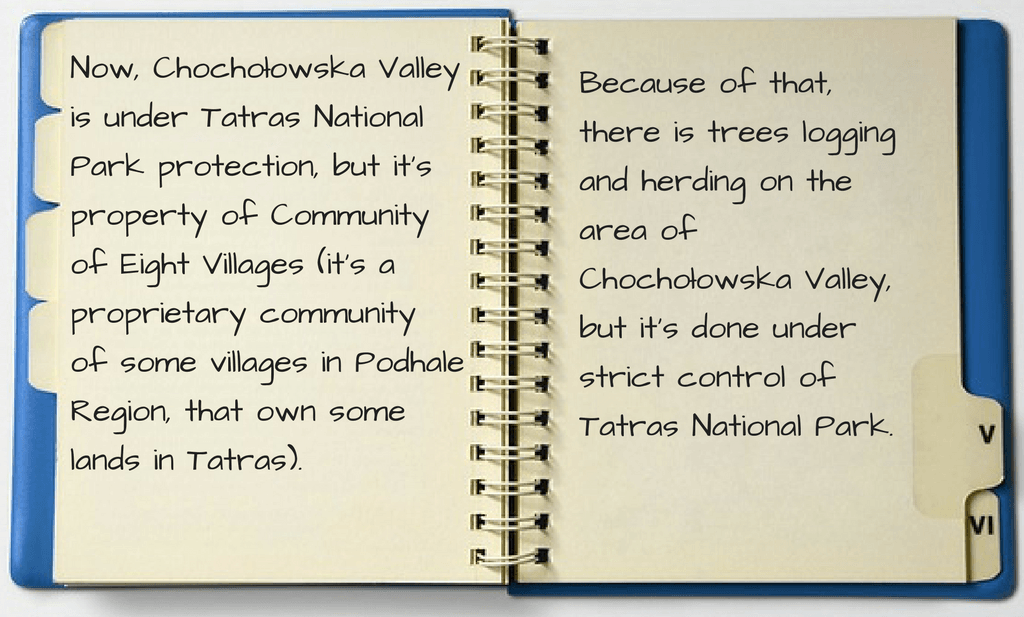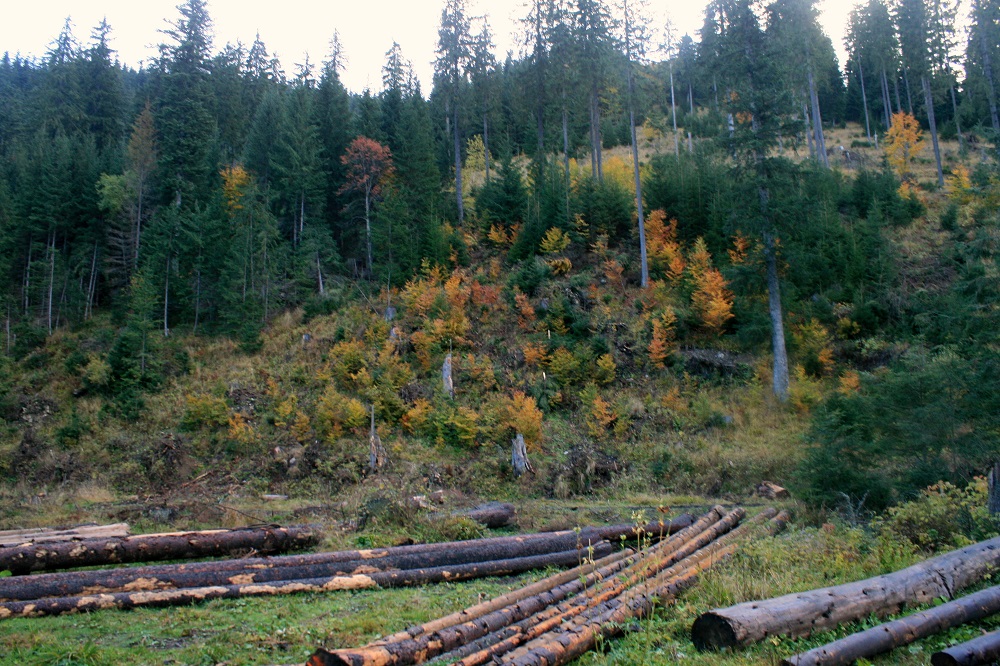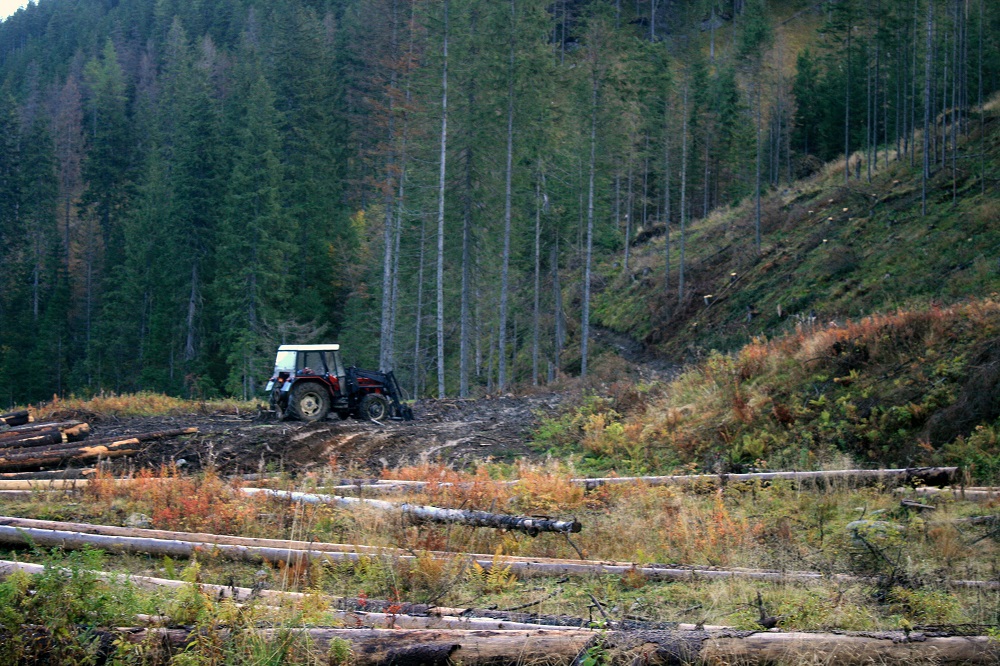 Touristic trails from Chochołowska Valley
Chochołowska Valley is the beginning of plenty touristic trails in Western Tatras:
yellow trail leads to Grześ Peak (1,5 hour), the beginning of the trail is next to the shelter
green trail from the mountain shelter we'll come to Rakoń Peak (2,5 hours) and Wołowiec (3 hours)
red trail leads to Trzydniowiański Peak (2,5 hours)
black trail leads to Siwa Pass (2,5 hours)
From Chochołowska Valley begins a trail Ścieżka nad Reglami (which we can translate as the path under montanes), which leads to Kościeliska Valley, and further to Strążyska Valley and Białego Valley (all trail is about 7-8 hours). The trail begins after an hour from entrance to Chochołowska Valley, on the left.
Have you been in Chochołowska Valley? Did you like it? What else would you like to read about? 
Share your opinion in comments!