There are really lots of places to visit in Zakopane and Podhale Region. Strictly connected with highlander culture are churches, that beneath Tatras have their unique charm and regional character. They're usually wooden, located in beautiful places, with local artists' works and great places to better understand the culture of Podhale Region. We want to present the most beautiful churches in Zakopane and Podhale.
The Church of Mother of God in Zakopane
Zakopane, 10 Kościeliska Street
Mass on Sundays and holidays: 8:30am, 10:00am, 6:00pm
First church in Zakopane, often called the old church. It was founded by Klementyna Homolacsowa, former land owner of Zakopane, and built by carpenters from Zakopane. The oldest part of the church was built in 1847 just next to the small Gąsieniców chapel. In 1850-51 church was expanded with south part and a bell tower. At the beginning, to honour the church's founder it was called the church of Saint Clemens, but after the I WW the main patron become Mother of God from Częstochowa.
The church has one aisle and presbytery, the roof is covered by shingles. The main altar was made by known folk sculptor Wojciech Kułach-Wawrzyńcok in XIXth century. There's a copy of the famous painting of Mother of God from Częstochowa.  
There are beautiful sculptures, wooden ornaments and folk glass paintings. The church is really nice, almost everything is made of wood, and works of regional artists give the church an unique character.
The church is also unique because of the person of its first rector, Józef Stolarczyk. It's good to know, that years ago, highlanders weren't really pious and preist was no authority for them, so the beginning in Zakopane parish wasn't easy. Józef Stolarczyk came from peasant family, he was tall and well-built and probably these things made him easier to get highlanders' trust. He was a very loud speaker, his sermons were long and abrupt, he often reprimanded highlanders from the pulpit, condemning drunkenness and speaking not only about the religion, but also about everyday life. It is said, that Stolarczyk tried to convince highlanders to go to church and he let them smoke pipes during the Mass. Stolarczyk become very important person in Zakopane, he was respected and deserved, not only because of his religious contribution – he also supported village's and turist development, he was also a co-founder of Tatras Society.
The Church of Saint John Apostle and Evangelist in Harenda
Zakopane, 14a Harenda Street

Mass on Sundays and holidays: 8:00am, 11:00am, 7:00pm (during winter 6:00pm)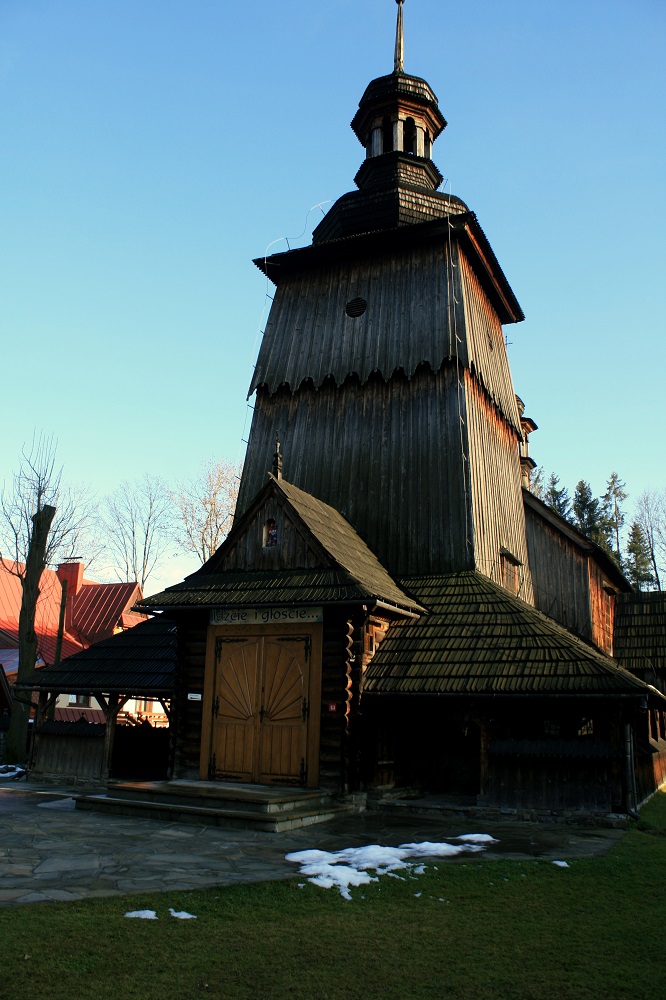 The history of this church is quite interesting. Everything started with the priest's Jan Hyc idea to build a church in Harenda (one of Zakopane's disctrict). He spoke about his idea to Maria Kasprowiczowa, a wife of very known Polish writer Jan Kasprowicz. She decided to give her piece of land to build there a church. But the church was not built, it was moved from other town – in small town Zakrzów a new church was built, and the old one, built around 1820 started to deteriorate. The decision of moving this church to Zakopane was made, so the wooden church was measured, disassembled and moved by train to Zakopane. The church's transport (we know it sounds strange :)) and the assembly in Zakopane lasted 2 years and the temple sacrifice was in August, 1950.
Inside this church are barocco altars from XVIIIth century and of course regional art works, like small folk chapels and paintings. A beautiful polychrome on the plafond is made in Italian style, it's really very valuable.
The Chapel of The Saint Christ's Heart in Jaszczurówka
Zakopane, 31 Oswalda Balzera Street

Mass on Sundays and holidays: 10:00am, 5:00pm
Wonderful wooden chapel, built on stone foundation was designed by Stanisław Witkiewicz in Zakopane's architecture style. The building of this church was started in 1904 and it lasted 2 years. In 1950s the chapel was extended with two additional altars and in 1970s it was renovated to protect this beautiful monument.
There are folk glass paintings inside, wooden sculptures and wonderful wooden chandelier. The main altar is made of wood as well and it's similiar to highlanders' hut. The towering chapel, located on the wood's edge, looks really beautiful, especially in winter.
The Church of the Mother of God of Scapular of Witów
Witów village, 178

Mass on Sundays and holidays: 7:00am, 9:00am, 11:00am, 7:00pm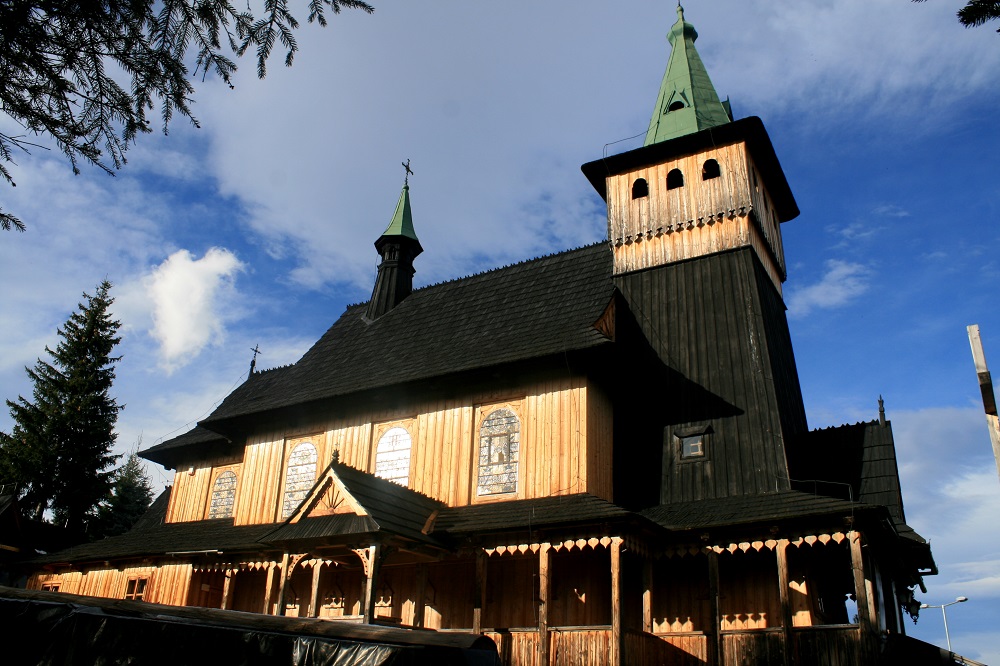 It's been 9 years of efforts to build this church. Finally, Franz Joseph, the Austrian emperor gave the permission at the beginning of XXth century and helped with donation. The building was started in 1910, the land was given by three highlanders from Witów. The church was finished in 1912.
The church is located on the hill, it looks beautiful from the main road. It's surrounded by beautiful garden with wooden sculptures. The church itself is really wonderful and charmful.
There's a neogothic altar inside, made by a Tyrol company, and stained glass windows from 1937. Other church deccorations were made by local artist and sculptor Michał Gąsienica-Szostak.
The Church of Saint Jack in Chochołów
Chochołów village 195

Mass on Sundays and holidays: 8:00am, 11:00am, 6:00pm (5:00pm in winter)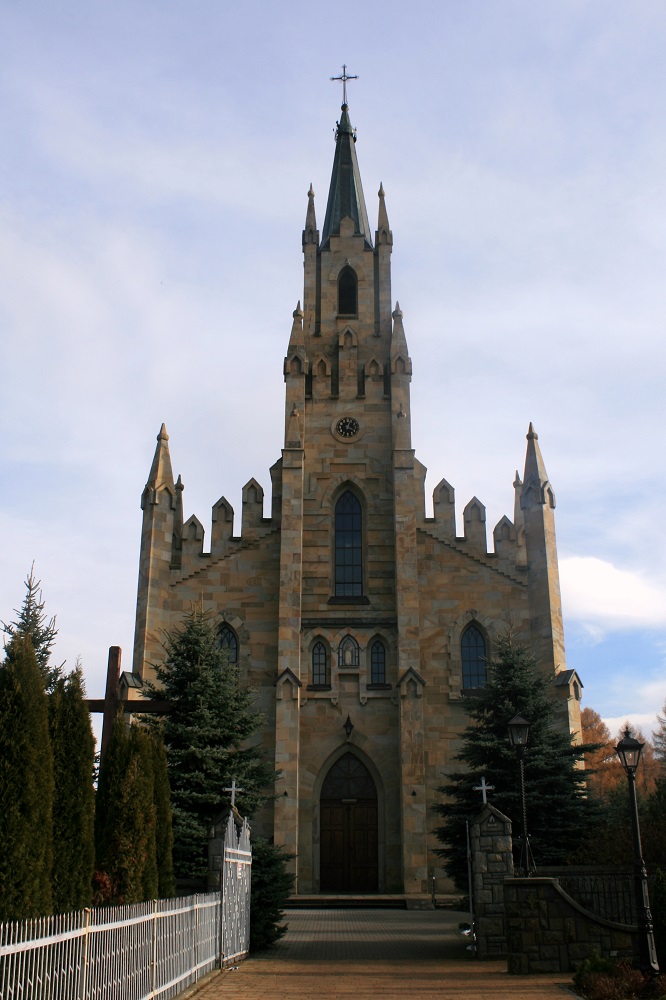 This church stands out from the other ones in this article: it's not wooden, not in highlander style at all, but it's really beautiful. Moreover, it's located between traditional highlander huts, as Chochołów village is an open-air museum, that shows traditional highlander village.
The church's designer was Feliks Księgarski, an architect from Cracow. He loved Neo-Gothic and created it in this architectural style. The building of this church lasted 20 years because the ground was really wet and there was need to strengthen it with stones and wooden piles. The church's walls are made of limestone, the elevation and bell tower are made of sandstone.
It has three aisles and it's built on Latin cross, with enormous windows (even 10 metres tall). In the bell tower (47 metres high), there are three big bells: Saint Jack (450 kg), Our Lady bell (245 kg) and Saint Florian bell (105 kg). Neo-Gothic altars come from the end of XIXth century and were made in School of Wood Industry in Zakopane (now the vocational school). There are beautiful frescoes inside and paintings by known Polish artists Wojciech and Walery Eljasz-Radzikowski (active promoters of highlanders' culture).
The Church of Saint Anna in Nowy Targ
Nowy Targ, 17 Zacisze Street

Mass on Sundays and holidays: 6:30am, 8:00am, 9:30am, 11:00am, 12:30am, 6:00pm
The local legend says, that the wooden church of Saint Anna was built in 1219, thanks to ruffian money, stollen by robbers in Hungary. This date is on presbytery, but it's questionable as the documents mention the origin of this church about XVth century. The church is located on the steep hill and looks really charming.
The roof is covered with shingles, there's a bell tower with bulging top. Interior is decorated with objects from different eras: polychromes are from the end of XIXth century, barocco altar and paintings from XVth and XVIth century.
The Church of Saint Michael Archangel in Dębno
Dębno, 42 Kościelna Street

Mass on Sundays and holidays: 8:00am, 11:00am
One of the most known church in southern Lesser Poland, it's on the UNESCO list. It's built from larch and fir wood, without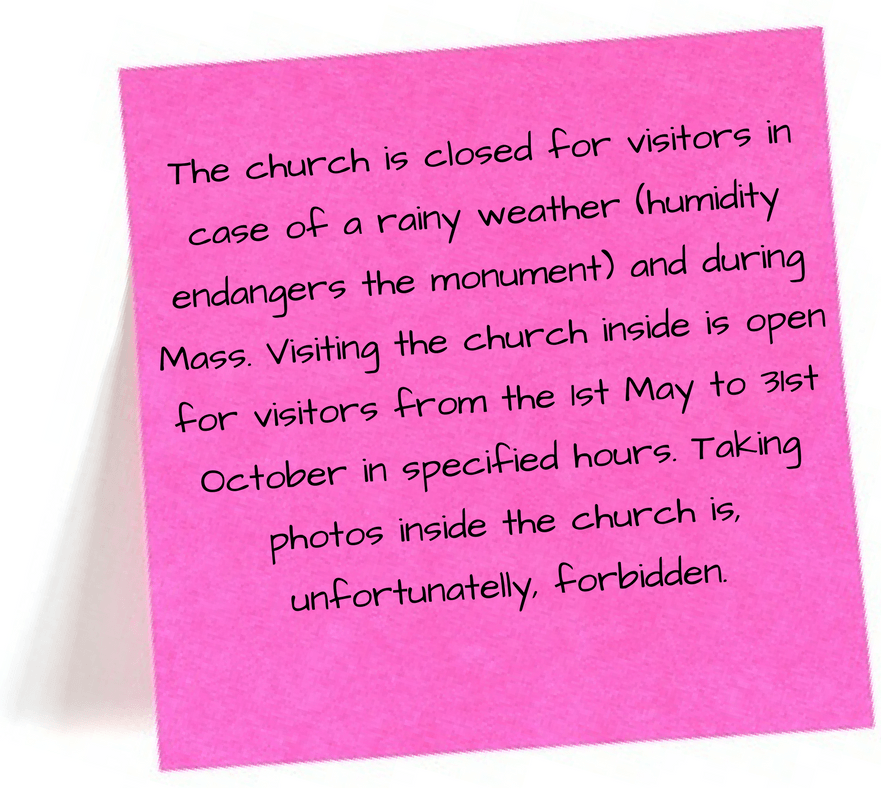 using any nails! All main beams are connected with wooden stakes. The church is built from wood only.
The first mention about this church comes from 1335, but it was about the former temple that stood in place of today's church. The building that we can now admire comes from the end of XVth century. Above the entrance there's a Christs figurine, made by local artist Józef Janos. The church is built in wooden gothic style, with presbytery directed to whe east (as all medieval temples).
The church inside has it's unique character. There's the oldest, fully preserved european polychrome on wood (comes from the beginning XVIth century), that covers almost whole interior. The main altar has beautiful painting with gilded background – triptych from the XVIth century, one of the most precious monuments of gothic panel painting. The whole prezbytery is made in gothic style. The crucifix, located in the main aisle, is the oldest element of the church, that comes from the 1380, from the former temple. Under the choir, in the showcase, there's a flag, a gift from the king John III Sobieski – as a legend says, he left it there after the victory in the Battle of Vienna (1683).
The Church of Holy Trinity and Saint Anthony Abbot in Łopuszna
Łopuszna, 1 Gorczańska Street

Mass on Sundays and holidays: 8:00am, 11:00am, 5:00pm
The church in Łopuszna is worth your attention not only because it's beautiful, but also because of its neighbourhood. It's located right next to the manor house of the Tetmajer family, where now the branch of Tatras Museum is located.
In the place where now is a church, previously was an older temple, founded by knights. Today's church was buil at the end of XVth century, and sacred in 1504. It's a gothic building, with one aisle. Its interior is kept in gothic and barocco styles. On the main altar, there's gothic triptych  from XVth century and ornamental polychrome on the ceiling. The church is surrounded by wooden fencing in Zakopane's architectural style.
How do you like this post? Mabye you'd like to add something to it? Is one of the churches special to you? If you visited these places we have described above please let us know in comments!