Winter in Zakopane and Podhale Region means many well prepared ski slopes, ski rentals and ski schools. But there's more than that! Zakopane and Podhale in winter offer much more. Check out the reasons why you should visit Podhale Region in winter and what you can do there.
Skiing and snowboarding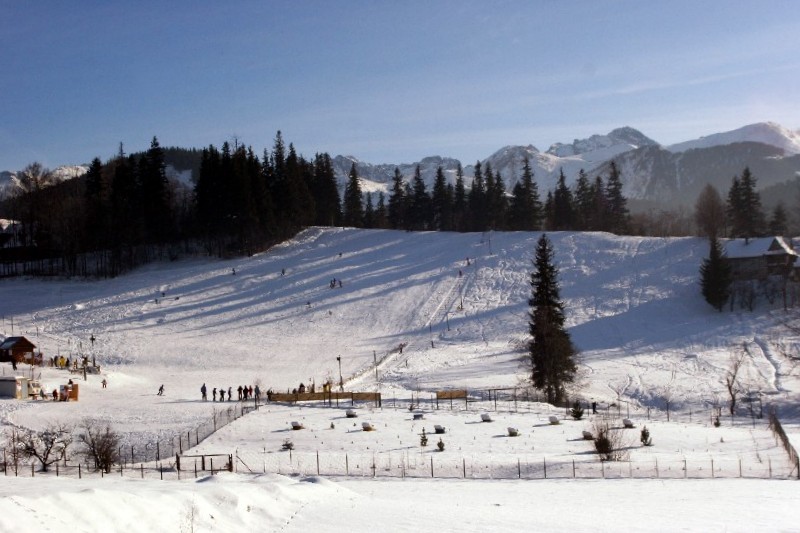 We should mention about them, of course, because Podhale Region is the Polish capital of skiing. There are many ski slopes in this area, with different difficulty levels, so everybody will find something. Moreover, at every ski center there are diversified ski slopes so children can learn skiing under ski instructor's care, and adults can enjoy more demanding routes.
If we have already mentioned ski instructors, we should also add, that there's ski school next to every ski slope, where you can buy individual ski lessons. Even if you have never skied before, mabye it is time to try? 🙂 During winter holiday there are group classes for children organized by ski schools – 2-3 hours, when children are under ski instructors' care they practise their ski skills and have a lot of fun.
If you don't have your own ski equipment, you can use ski rentals, with proffesional staff that will help you to choose skis or snowboards. You can rent there helmets, ski pols and gloves.
Ice rinks
There are few ice rinks in Podhale Region and they're often located next to the ski slopes – if one of you prefers skiing and other one prefers skateing, there won't be a problem where to go. Skating is great way to spent some active time – it improves your condition, oxigenates your organism and impores your mood.
Ice rinks in Podhale Region:
Zakopane:

COS ice rink – the biggest ice rink in Podhale Region (180m2), with ice way, Bronisława Czecha Street (next to the ski jumps center)

Ice rink on Grunwaldzka Street, next to the city park

Ice rink next to the roundabout 'Solidarności', 27 Nowotarska Street

Ice rink on 73 Krupówki Street

Ice rink in ski complex HARENDA, 21a Harenda Street

Białka Tatrzańska: ice rink, 183 Środkowa Street, not far away from the big ski center 'Kotelinica'
Nowy Targ: City Ice Hall, 14 Parkowa Street
Czarny Dunajec: roofed ice rink, 144 Jana Pawła II Street
Poronin: ice rink in ski center 'U Gruloka', 7d Tatrzańska Street
Cross country skiing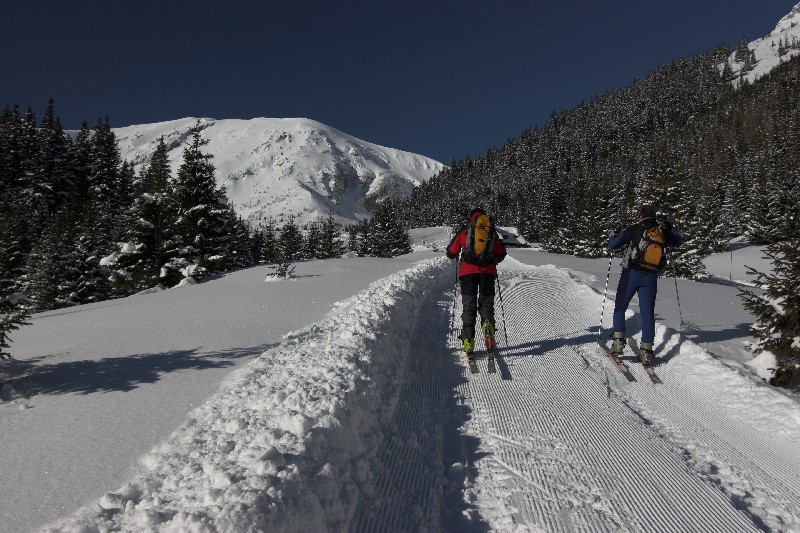 It becomes more and more popular, and because of that, more and more cross country skiing trails are made. Podhale Region is a perfect place to do this sport: different trails' levels, different landforms, wonderful views and possibility to choose the best trail are only some of their advantages.
Cross country skiing in Podhale Region:
Zakopane:

cross country skiing trail on Górna Rówień Krupowa – located in the city center, with beautiful view on Giewont Peak

COS cross country skiing trail – next to the ski jumps center

cross country skiing trail Pod Reglami – they're located on the hills just beneath Tatras feet, wonderful view of Zakopane

Kościelisko:

cross country skiing trail of Biathlon Center in Kiry (Kościelisko's district)

cross country skiing trail in Chotarz – good trail for beginners and advanced, beautiful views

Ząb – cross country skiing trail in the highest located village in Poland. Great opportunity to admire Tatras panorama
Białka Tatrzańska – cross country skiing trail Kotelnica Hill-Jankulakowski Hill with beautiful Tatras panorama

Nowy Targ:

cross country skiing trail in ski center 'Długa Polana'

cross country skiing trail on the airport – long and easy, very good for beginners

Turbacz Peak – Turbacz (1310 m.a.s.l.) is a peak in Gorce Mountains (mountain range in north part of Podhale Region, next to Nowy Targ). It's demanding trail, but views are wonderful. It starts in Obidowa – village next to Nowy Targ.
Mountain trips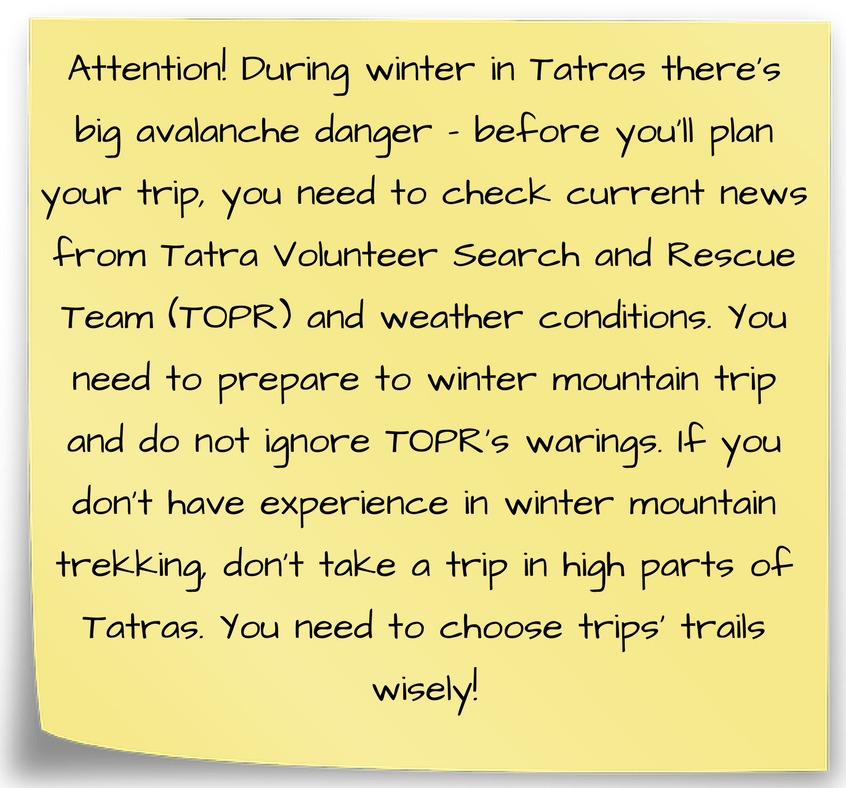 Tatra Mountains in winter time are something wonderful. They look completely different than in summer, when there're lot of tourists on the most popular trails. In winter there's really calm in Tatras, and we can see their more dangerous, but still wonderful face.
In winter, when the weather conditions are fine, it's worth to go to Tatras valleys: Kościeliska, Chochołowska, Strążyska, Białego, Olczyska; take a trip to Morskie Oko, or visit Nosal and Kalatówki – even if you know those places from summer trips, in winter they look really different, you will feel just like you were in a different place.
When the weather is fine and you have proper equipment and skills, you can go to Black Pond, Kasprowy Peak or take a trip to Western Tatras.
Winter sleigh ride
Sleigh ride pulled by horses in beautiful, sunny and snowy day? Or mabye sleigh ride with torches in a winter evening which will end with a bonfire? This is a big attraction for both, adults and children. Adults can additionally get warm up with highlander tea or mulled wine 🙂 Winter sleigh ride offer is really wide: ride in Zakopane, ride in snowy valleys with bonfire or feast in highlander hut, accompanied by live highlander band playing, Christmas sleigh ride, New Year's Eve sleigh ride… and You can choose from many other offers 🙂
Regional sled race, called 'kumoterki'
It's a cyclic event and highlander tradition – this kind of events were organized already in 1930s. Highlander families from the whole Podhale Region present their horse sleds, and then they start in a race. Besides standard sled race, there's also skiring competition (a skier is pulled by horse, that he drive himself) and ski-skiring (a skier is pulled by horse with a rider). This event is really spectacular and very interesting. Great fun guaranteed!
Regional sled race is usually organized in January or February, in different places of Podhale Region: Zakopane, Biały Dunajec, Poronin, Kościelisko, Białka and Bukowina Tatrzańska, Ludźmierz, Małe Ciche and Szaflary. We don't know yet the dates of sled races in 2018, but follow our news page, we'll surely inform you about them!
Downhill on anything
Another interesting and funny competition 🙂 Participants go downhill from a top of a slope on vehicles that they made themselves. Human fantasy is really big, you can get inspire during this kind of competitions. This event is organized in Białka Tatrzańska.
.
Poland Academic Cup in Alpine Skiing
Alpine skiing competitions are organized every year in ski center HARENDA in Zakopane. Participants are former or current members of Academic Sport Associacion. It's an interesting event, it's worth to come to suport the participants 🙂
Hot Air Baloons Competition in Nowy Targ
The cyclic event, organized by Aeroclub in Nowy Targ. Raelly interesting show, which aim is to promote baloon sport in Podhale Region. Competition occurs in March.
New Year's Eve in Zakopane
Huge New Year's Eve open air party will occur for the second time in Zakopane. On a really big stage in the center of Zakopane many music stars will perform. There's no specified information about who's going to perform yet, but one thing is for sure – unforgettable fun is guaranteed. Last year, in the open air party took part more than 60 thousand people and more than 5 mln watched it on TV !!!
FIS Ski Jumping World Cup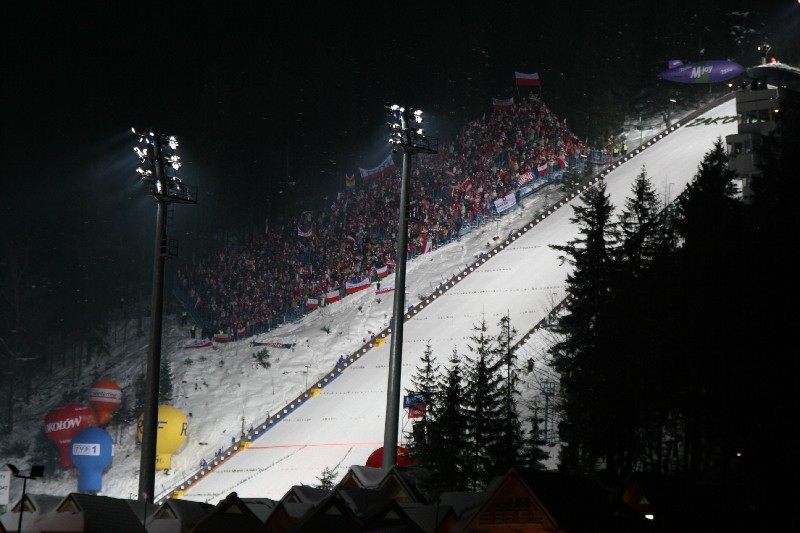 If you're ski jumping fan, you can't miss this event! This time, World Cup in Zakopne will occur in 26, 27 and 28 Januray 2018. Taking part in this event is not only occasion to see the best world sportsmen live, but also to support your country representatives. And amazing atmosphere of the World Cup in Zakopane, lots of emotions and fun, you can't compare it to anything!
Highlander Carnival
Annual, noisy Highlander Carnival in Bukowina Tatrzańska attracts many people. Highlander caroling, regional dances, sled race, Polish Tatra Sheepdogs show, shooting competition… – great event, many attractions and unforgettable memories! In this season, Highlander Carnival will occur in 8-11 February 2018.
Ice labyrinth
In winter time, the area next to the ski jumps center in Zakopane does become the biggest in Poland ice labyrinth. It's corridors are really long, and it's not easy to escape from it. Next to the labyrinth there's also Ice Castle.
Christmas Fair in Nowy Targ
Nowy Targ is a place of different kinds fairs and exhibitions. One of the most popular one is the Christmas Fair, organized every year in December. Companies from the whole Poland, artists and craftsmen present their products there, as well as local artists and craftsmen creating in the regional style. Great opportunint to buy Christmas decorations and gifts.
Highlander caroling
If we're already speaking about Christmas, it's good to know, that in this period in the whole Podhale Region there are common highlander caroling, usually with regional band and highlander dance. This does happen in all different places: churches, museums, cinemas. Follow our news website, we'll inform about them!
As you can see, winter in Zakopane and Podhale Region is not only about skiing. And what do you like the most in winter time in Podhale? Which attractions are the most interesting to you? Share your opinions in comments!